Qumulo by ANAFRA — simplify your unstructured data, anywhere, anytime
News
Qumulo by ANAFRA — simplify your unstructured data, anywhere, anytime
As the digital environment grows, unstructured data also grows at an unprecedented rate. From documents and images to social media content and many other types of data, managing this digital influx has become a major challenge for organizations of all sizes. Qumulo is at the forefront of this new era, offering next-generation solutions to simplify the storage and management of unstructured data. With innovative and flexible deployment options, Qumulo enables businesses to leverage their data, whether located anywhere (in your data center, edge-based virtual machines, or in the public cloud: AWS, Azure, and/or GCP) ensuring availability, security, and efficiency in a world increasingly driven by information and data.
The global volume of unstructured data is growing exponentially, and since the inception of virtualization and the first iPhone, this trend has been on the rise. In recent years, with the advent of big data, software-defined storage, and later ML, AI, and autonomous vehicles, this trend hasn't declined - quite the contrary. It is estimated that by 2025 there will be up to 175 Zettabytes of unstructured data across (not just) corporate data. Thus, the need to effectively work with this data is also increasing.
Qumulo file storage, in collaboration with Supermicro servers, offers organizations of all sizes a new way to simplify the storage and management of unstructured data, wherever it is.
A wide selection of Supermicro hardware platforms, including high-performance all-NVMe and cost-effective hybrid-NVMe servers, allows Qumulo software to provide a flexible foundation that creates deployment options on-premise, in the cloud, and at the Edge. Qumulo's software-focused approach gives customers the freedom to store, manage, and use their unstructured data wherever they need it.
The Qumulo data platform powered by Supermicro provides a modern infrastructure for data-oriented workloads. Qumulo offers a reliable and highly performant access to data to accelerate creativity and collaboration, as well as robust management, storage, and protection of content at HD, 4K, or 8K levels, across both local and cloud environments. The Qumulo file system is designed to provide support and insight for billions of files with simple scalability, facilitating rapid growth and expansion.
What does Qumulo offer?
Scalability without limits: Hundreds of nodes, billions of files, and exabytes of capacity in a single namespace.
Performance: Accelerate workloads with smart cache preloading using machine learning.
Maximum speed with NVMe: Tuned for performance and capacity optimization on Supermicro servers.
Visibility: Monitor analytics in real-time for better insight and improved capacity planning.
Security: Automatic multi-tenant security with encryption and authentication support across various protocols.
Integration: Automate workflows and integrate with any system using extensive REST API options.
Protection: Transfer data between on-premises storage and the cloud in near-real-time without the need for application rework. Minimize downtime with DR services, replication, and snapshots with almost zero RPO.
Mobility: Transfer data between local storage and the cloud in near-real-time without the need to rework applications.
Excellent support: Proactive cloud monitoring, 24/7 support, a large community, and an extensive knowledge base. 100% of reviewers would recommend Qumulo.
High performance, minimal TCO
all-NVMe servers provide lightning-fast read and write speeds and high throughput. 1U Supermicro servers offer capacity ranges in increments based on individual nodes from 30 TB to 153 TB per node. This maximizes density, reduces power and cooling requirements, and lowers the total cost of ownership (TCO). The advanced Qumulo system enables symmetrically scalable capacity and performance, providing a real-time view of data and performance tracking. Qumulo offers the most efficient and advanced file system with the maximum ratio of raw to useful capacity, utilizing 100 percent of the usable storage.
Freedom of Choice Qumulo is designed with platform flexibility in mind. Qumulo customers can reduce costs through a wide selection of hardware across several performance levels. The software architecture runs on standard hardware from Supermicro, as well as other manufacturers. Customers also appreciate the option to mix node manufacturers, for instance, expanding existing infrastructure from another manufacturer with new Supermicro nodes.
I am interested in a non-binding consultation
Proven Across All Industries
The Qumulo platform has found its application among global company names, spanning many sectors such as media and communication, healthcare, natural sciences, public administration, higher education, technology, energy, financial services, and manufacturing. It's no wonder that so many customers turn to proven quality. For five consecutive years, Qumulo has been chosen as one of the leaders of the Gartner Magic Quadrant in the area of Distributed File Systems and Object Storage. If interested, take a look at the entire Gartner report here.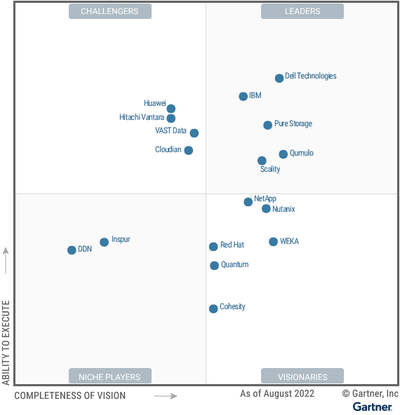 What are the hardware options?
We supply Qumulo solutions completely assembled and pre-burned with an activated license. It consists of a cluster of four server nodes, which is the minimum required configuration.
Supermicro Qumulo-Ready All-NVMe Server Platform
each node contains:
1x AMD EPYC™ 7003/7002 Series processor
16 DIMM slots; up to 4TB RAM DDR4-3200MHz
10x Hot-swap U.2 NVMe4/NVMe3/SATA3 fully hybrid positions
2x 10 GbE RJ45 LAN
2 PCI-E 4.0 x16 (FHHL) slots, 1 PCI-E 4.0 x16 (LP) slot
Integrated IPMI 2.0 + KVM with dedicated port
Out-of-Band management
750W redundant 80PLUS Platinum power supplies
Qumulo license

from € 108 080 ex. VAT



Supermicro Qumulo-Ready Hybrid-NVMe Server Platform
each node contains:
1x AMD EPYC™ 7003/7002 Series processor
16 DIMM slots; up to 4TB RAM DDR4-3200MHz
12x 3.5" SAS3/SATA3 Hot-Swap positions, 4x 2.5" 7mm U.2 NVMe Hot-Swap positions
2x 10 GbE RJ45 LAN
RAID support with Broadcom® 3916
2 PCI-E 4.0 x16 (FHHL) slots, 1 PCI-E 4.0 x16 (LP) slot
800W redundant 80PLUS Platinum power supplies
Qumulo license

from € 76 852 ex. VAT
Supermicro Qumulo-Ready reference architecture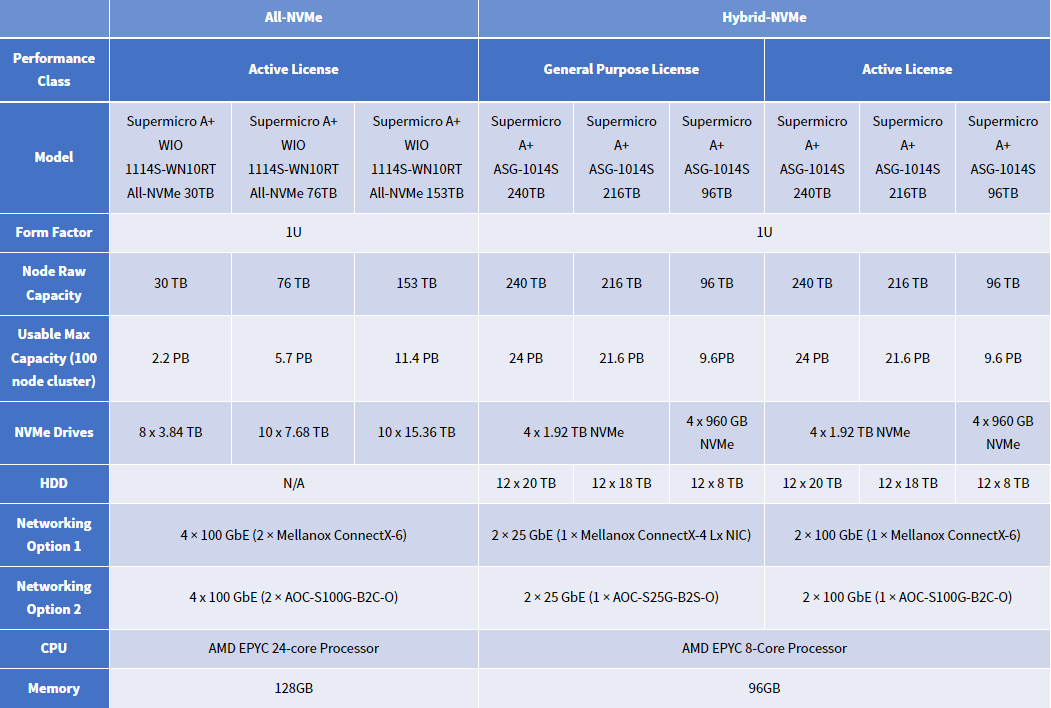 We are now offering a special promotion
Planning the implementation of a Qumulo solution, but unsure about performance and want to know more? We are here for you. For customers with a serious interest, we can provide performance tests completely free of charge thanks to our partnership with Qumulo.
Customer Story — Hexagon maps the globe with Qumulo data platform
Hexagon, a global leader in digital reality solutions with a turnover of $4.3 billion, leverages sensor, software, and autonomous technologies to boost industry productivity and efficiency. Hexagon collects and analyzes geospatial data using 20-30 aircraft and produces more than 1 billion images per month. In the past eight years, they have processed more than 9 million square miles of data and anticipate gathering over 48 PB of data in the upcoming year. They offer smart analytics and applications, including virtual environment testing and the creation of digital twins for industries like construction, urban services, and mining. Hexagon's geospatial library grew from 150 GB to 160 TB daily, and the partnership with Qumulo provides the essential IT infrastructure and support.
Collaboration with Qumulo and other partners has led to successes with customers such as FEMA during COVID-19, Texas Natural Resources Information System (TNRIS) for statewide imaging, and Beneath the Waves for ocean conservation. Hexagon is prepared to address urban planning, emergency events, noise and light pollution, or population growth. They rely on the support and storage capabilities of Qumulo for handling unstructured data and aim for higher productivity, innovative business models, and community engagement.